Emmy Award-Winning Director & Actor
Katie O'Grady Teaches Your Kid

Learn to Act for TV/Film
Watch this important message from Katie O'Grady below!
A Complete Actors Toolbox for Kids & Teens of All Levels
Learn to Act for TV/Film is an online program that teaches your kiddo easily repeatable & professional practices for both the art & business of acting.

From the basics of building a strong character to learning how to cry on camera….all the way to getting booked!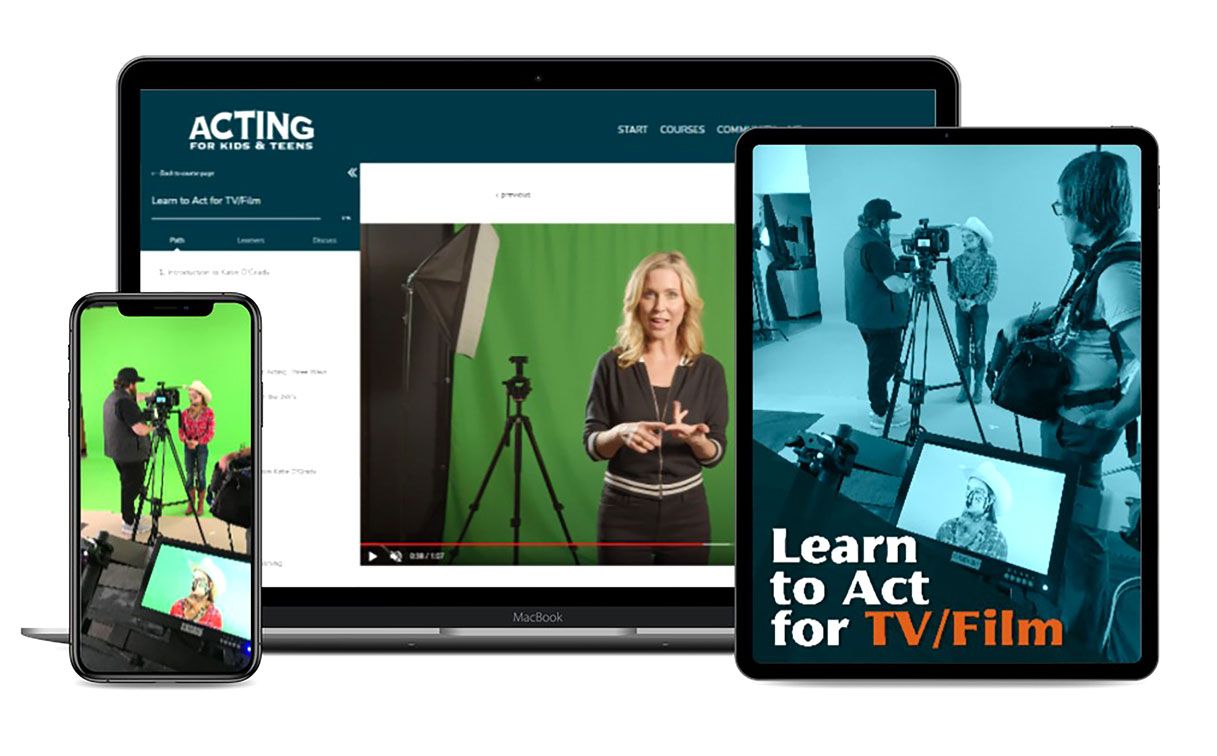 By the end of this course,
your kid will be able to compete for TV/Film roles submit to talent agencies, and become a confident actor ready to take on ANY audition, at anytime.
See the full list of what this program includes below.
20+
practice scripts & exercises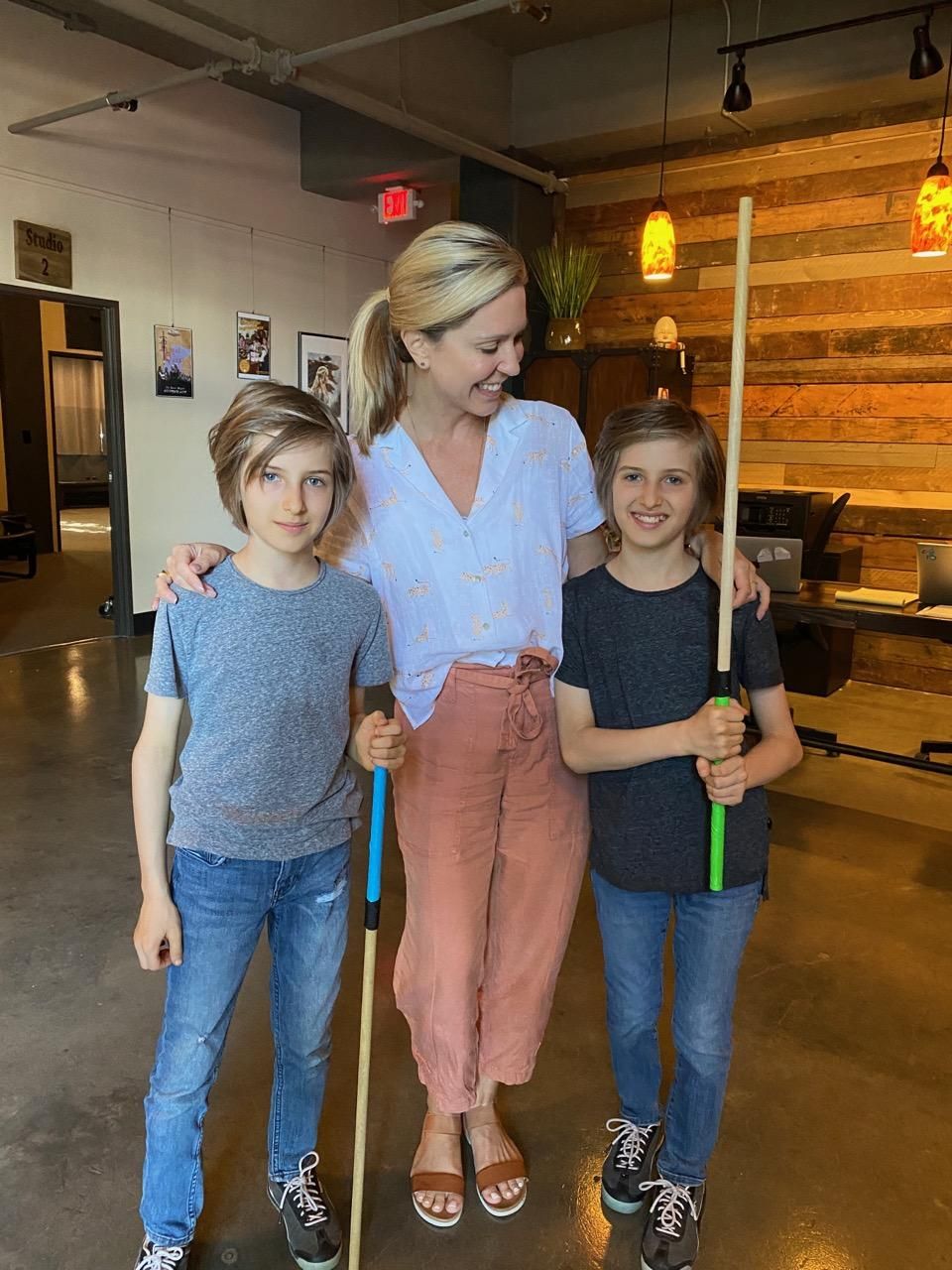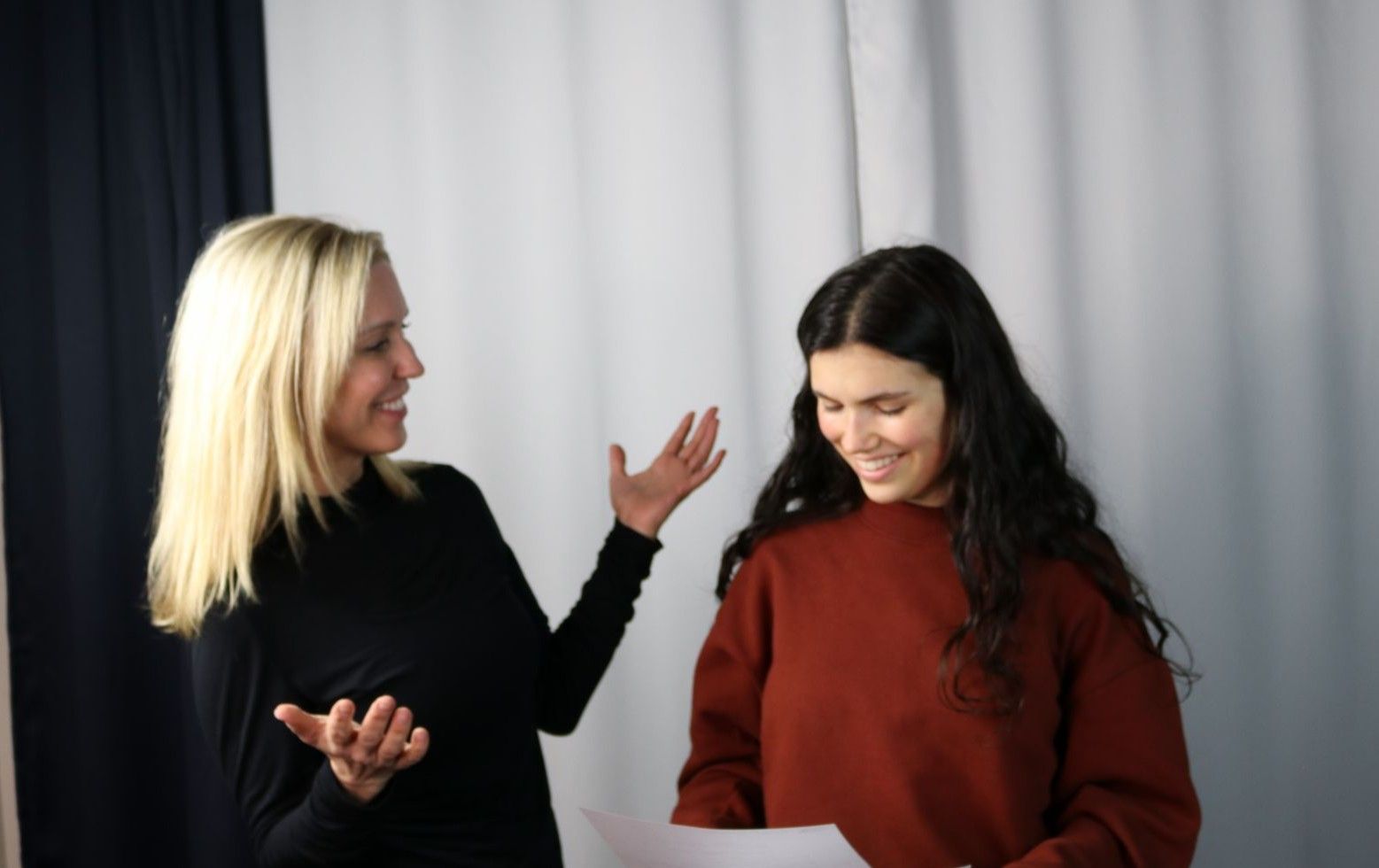 Warming up means taking the time to relax, let the day go, open your actor up to creativity, and have more fun. You will get handouts so you can easily do these warm up games at home!
You will learn simple yet professional techniques to create believable characters. Even if you're a beginner, you can have a great performance with these techniques.
Now we start to build on the basics. You will have the tools to create awesome characters when it comes to performing any scene. This section teaches you the stuff that will get casting & directors to pay attention to you.
You will have access to Coach Katie's personal library of auditioning reminders and exercises. This section comes with a step-by-step Auditioning Guide that will make it easy for you to stay organized and feel confident going to any audition.
We will look at what an Audition Breakdown is, how to professionally submit to opportunities and what you need to be considered for a role.
You Won The Opportunity, Now What?
When you are invited to submit for an audition, there are specific steps you need to take. This is what this module is all about!
Preparing For Your Audition
Casting & directors love actors who are prepared and believable. You will learn how to prepare so you can go into any audition feeling confident.
You will learn tips for how to package your best performance into a great audition so that you stand out from other actors. We'll even talk about equipment and what you need to film your audition.
What happens when you get a callback after an audition? How do you prepare? What are some ways to get noticed in your callback? This is what you'll learn in this section.
Letting It Flow & Be An Artist
Tips on how to stay positive after not getting the part...and also how to celebrate when you do!
Love from
our students
Getting to attend Katie's classes as a teen, and now being able to work with her as an adult, has truly been the gift of a lifetime. Katie pushed me the way other teachers did not. She has a way of getting to the root of a person's spirit, while wading through the angst of what being a teenager is. She is patient, kind, hilarious, and a master teacher. Without Katie's classes I would not have had the confidence in my acting skills to play a lead in a feature. You will not regret signing up.
Former Student | Director/Writer Sophie Jones
Stop Trying to Navigate The Confusing World of Acting Alone.
Here's what you get when you sign up to start training with Coach Katie today!
Learn to Act for TV/Film: Online Training + Handouts:

$1,957

Learn to Audition for TV/Film: Online Training + Guide:

$567

Coach Katie's Personal Library of Auditioning Reminders & Exercises:

PRICELESS

Lifetime Access to a Community of Actors & Industry Members:

PRICELESS
Total Value =
$2,524
Enroll Today for Only
$195
MEET YOUR ACTING COACH,
KATIE O'GRADY

I know what it's like to dream about being an actor but not know how to get there. I also understand how scary and uncertain it feels to take those first steps without fully knowing if you're on the right path.


Working in the film industry for over 22 years as an actor, producer, writer and director on major network roles (Netflix, NBC, IFC, Showtime) has allowed me to see that the ones who succeed in this industry are the ones who never stop growing. They always ask themselves "What Next?"


Continuously training naturally keeps you on the right path, helps you reach your next milestone and will separate you from everyone else with a dream. I know it sounds simple, but it was true from being a little girl with a dream to training with top professionals in NY/LA/Portland to landing my first role in a Paramount Picture film to recently winning an Emmy…and it's still true to this day.

As Founder of Acting for Kids & Teens school in Portland, I've successfully trained hundreds of actors, have watched them grow in confidence and land TV/Film roles.

For the first time, we are going GLOBAL with this training so your child can develop those key skills to act for TV/Film, survive the business, and have FUN!


What do the kids have to say about Coach Katie?
Watch this video.
Kind Words From Parents...
"We're so glad we found Acting for Kids and Teens. Katie is not only an amazing teacher who just exudes joy and love for her students. She is also a very skilled and successful actress. Katie is eager to share her knowledge and talent with her students. My daughter adores her and the rest of the AFKT staff. With their assistance, my daughter has been cast in several commercials and a TV show and even has her own IMDb page now!"
Tara H. (Mom)
"Thanks to Katie, my son is now a working actor. Her training and guidance has given him the skills needed to enter an audition room with confidence. He is getting call backs, booking jobs and loving every minute."
Kristen S. (Mom)
"Katie helped our son love acting again. Her energy and ability to communicate with her students no matter their circumstances goes unmatched. Katie discovers the individual talents in each of her students and helps them celebrate their uniqueness. Our son grew emotionally and creatively under her direction. We are so very thankful for her dedication to her young budding artists!"
Tracey H. (Mom)
Get Your Child Acting With Confidence
in
3 STEPS
Buy The Course
Pro actors train. Period. When you invest in this program, you'll receive instant access to relevant, proven techniques used by Coach Katie and other pro actors so your child can start training right away. No fluff. Just real work.
Practice, Practice, Practice!
This course will immerse your child into the art of acting. They will develop their skills by watching the training videos, doing the exercises, downloading & playing with the scripts provided.
Compete for TV/Film Roles

With these acting techniques, kiddo will feel fully prepared to perform any roles with confidence, book auditions, compete for casting opportunities and submit to talent agencies.
Created with